News
/
XSD International Paper Sdn Bhd Malaysia Coated Duplex Board Paper Production Line with an Annual Output of 350,000 tons Officially Started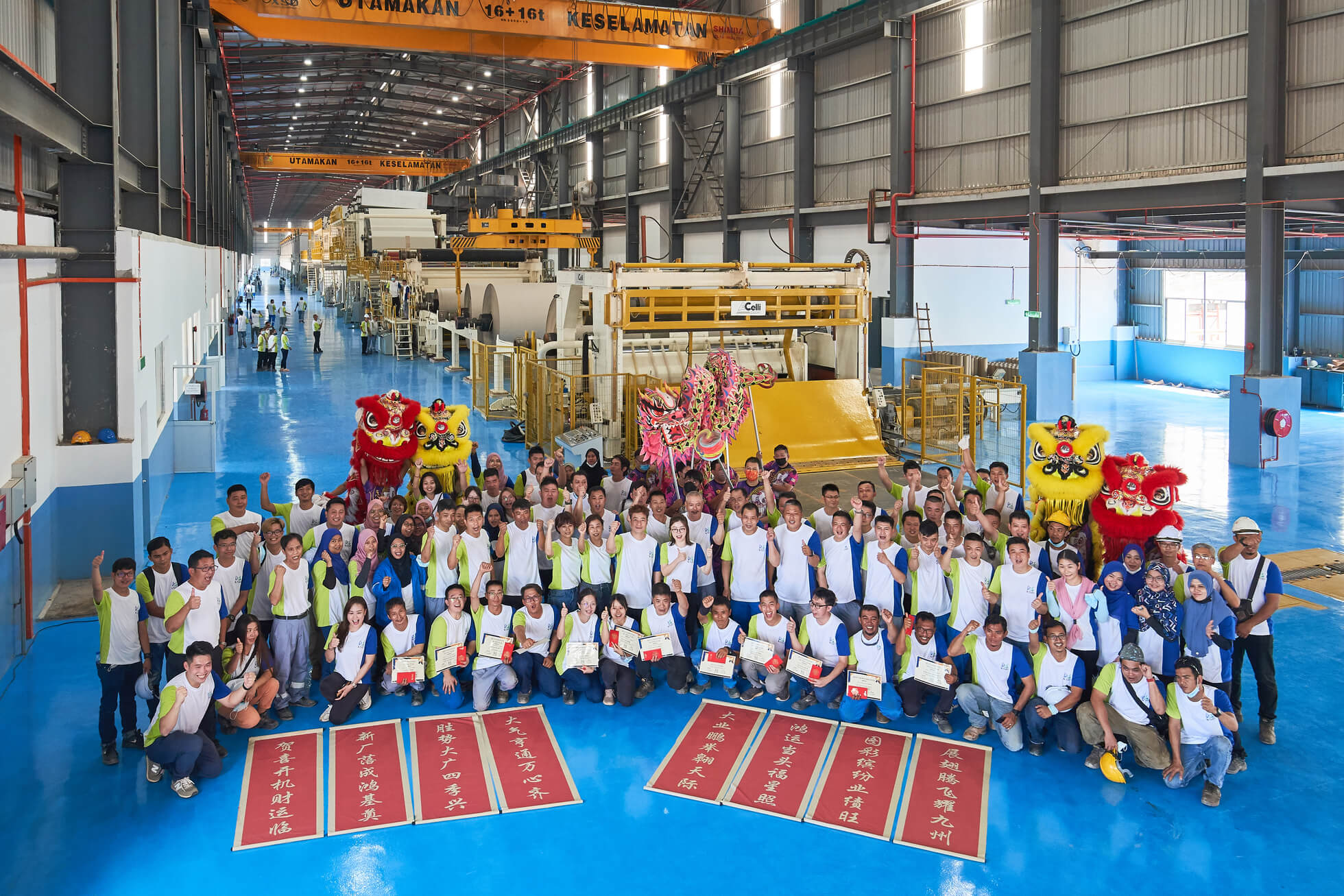 29 Jan 2022
XSD International Paper Sdn Bhd Malaysia Coated Duplex Board Paper Production Line with an Annual Output of 350,000 tons Officially Started
With gongs and drums and firecrackers blaring, at 10.30 am on January 29th 2022, the first paper production line of XSD International Paper Sdn Bhd was officially started!

The designed annual production capacity of this production line is 350,000 tons of coated duplex board. The width of the paper machine is 4400mm and the design speed is 600m per min. The complete pulping equipment is provided by ANDRITZ from Austria, while the papermaking equipment is provided by B&H from Germany, PMT from Italy, GAW from Austria, A.Celli from Italy and other international famous brands. The paper machine has been successfully tested on January 25th 2022, and the paper has been successfully delivered!

In July 2018, under the "One Belt One Road" policy, Xinshengda Group established XSD International Paper Sdn Bhd in Malaysia, planning to build a green paper park project with an annual production capacity of 2.1 million tons in Malaysia. The groundbreaking ceremony was laid on December 4th 2019, and construction officially started on January 11th 2020. The subsequent new crown epidemic brought huge difficulties to the project construction. During the period, it experienced 2 nationwide blockades and 2 shutdowns, with a total shutdown time of 6 months; at the same time, the epidemic also caused difficulties in transporting technical personnel, the expatriate employees are unable to return to China to visit relatives for a long time. However, with the hard work and dedication of all XSD employees, and the concerted efforts of domestic and foreign suppliers and third-party service companies, the first paper production line was finally successfully produced after 25 months of construction.

At present, the supporting power plan is about to enter the civil construction stage. The second high-grade kraft paper production line with an annual output of 350,000 tons has entered the design and equipment ordering stage. After the first phase of the company's production, the annual papermaking capacity of the company's first-phase project will reach 700,000 tons, with an output value of 18 million tons of billion ringgits.

2022 is a crucial year for XSD's domestic and international dual-track operation layout. China and Malaysia will achieve functional complementarity and effect amplification, forming a "two-country multi-base" papermaking map. XSD employees, who ride the wind and waves, will stand on the same starting point, give full play to the team spirit of unity, assistance and continuous innovation, and jointly open a new chapter of development for the group!